I-Stock Benefits
I-Stock is an automated, on-site delivery program designed to reduce:
Replenishment Cycle Time
Stock Outages
Inventory Investment
Supply Chain Administrative Costs
The figure below shows the many steps of the traditional procurement process and the value of product that $1.00 invested in this process generally produces - $0.59! Approximately 41% of the effort spent by a typical company to get product to the point-of-use is consumed by non-essential activity.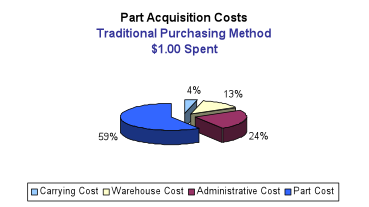 The objective for any value-added service is to provide cost savings to the customer beyond what the customer could obtain within their own organizational cost structure. The decision of which service will achieve the most benefit depends on the customer's internal processes, product types, volume of product through put and characteristics of the repair itself. Additionally, I-Stock is an ideal vehicle for the procurement of high-usage kits.
Typical Costs include:
Multiple transactions & hand-offs
Large quantity of suppliers
High processing costs
High order-accuracy error
ISA recommends that you consider alternative methods of providing product to the point of use; i.e., putting the part right at the mechanic's finger tips. You should be able to improve labor productivity and reduce overhaul cycle time by employing I-Stock right on the shop floor.
The intent of I-Stock is to facilitate the ordering and receipt of high volume, low cost hardware, seals, o-rings, etc. ISA will supply items of lower volume and/or higher cost, through traditional means.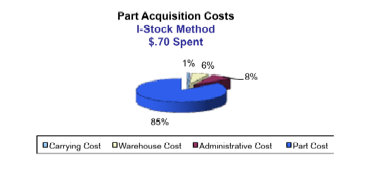 I-Stock can significantly reduce the process costs:
Reduced transactions & hand-offs
Number of suppliers reduced to 1
Reduced processing costs
Increased order accuracy